A semi-automatic firewood factory with innovative features. The Hakki Pilke 55 Pro has been designed together with professionals around the world to enable the most efficient production of firewood. The innovative features of the 55 Pro ensure superior performance in all conditions.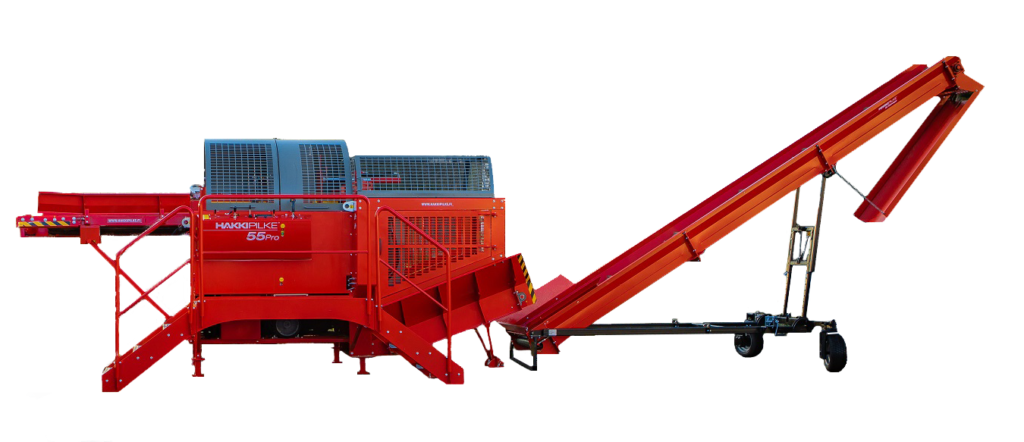 The Hakki Pilke 55 Pro brings firewood production into the modern age with its innovative and automated features. With the new HakkiMultiBlade™ you can easily split logs into up to 24 pieces and then easily change to 8 pieces in just a few seconds. The automatic hydraulic height adjustment of the splitting blade allows for consistent quality firewood even when log diameters vary. The system features an innovative sensor that measures the diameter of each log and then adjusts the height of the splitting blade for optimal results.
55 Pro has a modern data monitoring system with an easy-to-use display. The monitoring system collects important information on machine productivity and processes. Get real-time information on processed volume measurements, operating hours, splitting methods and machine guards. The display gives statistics on the firewood produced, such as daily production or production per hour. The user can easily change the desired dimension of the firewood on the screen. The measuring device automatically moves to the correct position based on the selected length.
Thanks to the delay-free HakkiSplit™ splitting system, the 55 Pro's productivity is unbeatable, with its half-stroke function making shorter firewood quickly. You can choose the diameter to return after either a full, half, or one-third stroke. The landing plates ensure that even the shortest logs land neatly in the splitting chute. Standard equipment also includes the HakkiCut™ sawing interface, patented AC 10 automatic chain tensioner and electric automatic chain oil lubrication.
Download files
(product brochures, user manuals, spare parts books)
TECHNICAL SPECIFICATIONS
DIMENSIONS DURING TRANSPORT
OPTIONAL EQUIPMENT
ACCESSORIES