Hakki Pilke Raven 33 is an easy to use and reliable wood processor. The machine's direct hydraulic system allows simultaneous operations with light movements of the operating lever. The robust structure and minimal need for maintenance ensure that the machine is cost-efficient to use. Effortless operation and sufficient splitting power enable the processor to split even the largest of logs – get ready to make firewood for all purposes with unparalleled ease.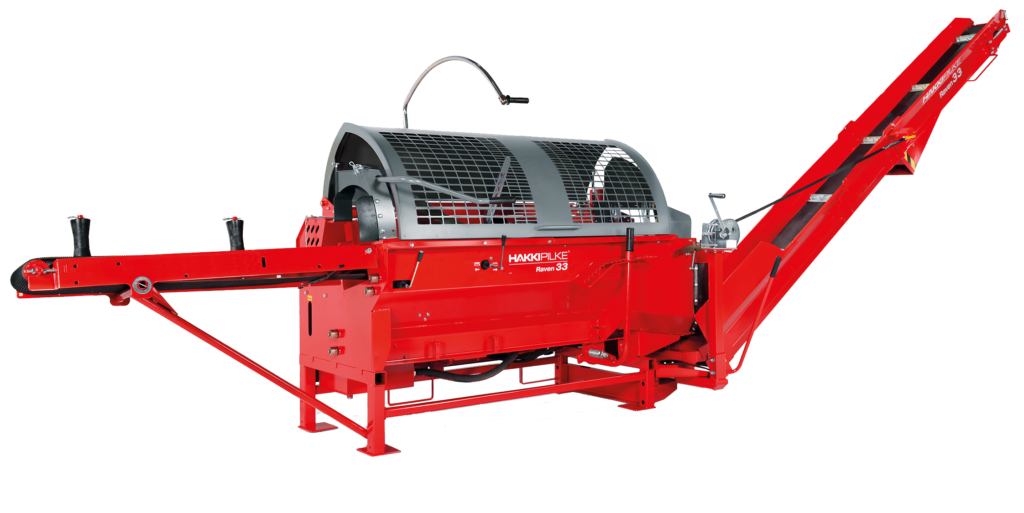 The one-piece guard, which is connected to the operation, is sprung by gas springs. It makes using the machine safer and is quick to open in the event of a malfunction, also allowing easy maintenance of the saw chain. Low power requirement and light weight of the machine also allow the use of lighter tractors. Raven 33 firewood processor has a carpet infeed conveyor and a laterally pivoting hydraulic outfeed conveyor as standard equipment.
The machine can be equipped with accessories to suit the application. With a tree lifter and auxiliary and log tables, you can make your work even easier and more efficient. The reverse valve on the in-feed conveyor can be used to feed and reverse wood independently of the machine's functions. The features of the machine make it ideal for shared use.
Download files
(product brochures, user manuals, spare parts books)
TECHNICAL SPECIFICATIONS
DIMENSIONS DURING TRANSPORT
OPTIONAL EQUIPMENT
ACCESSORIES