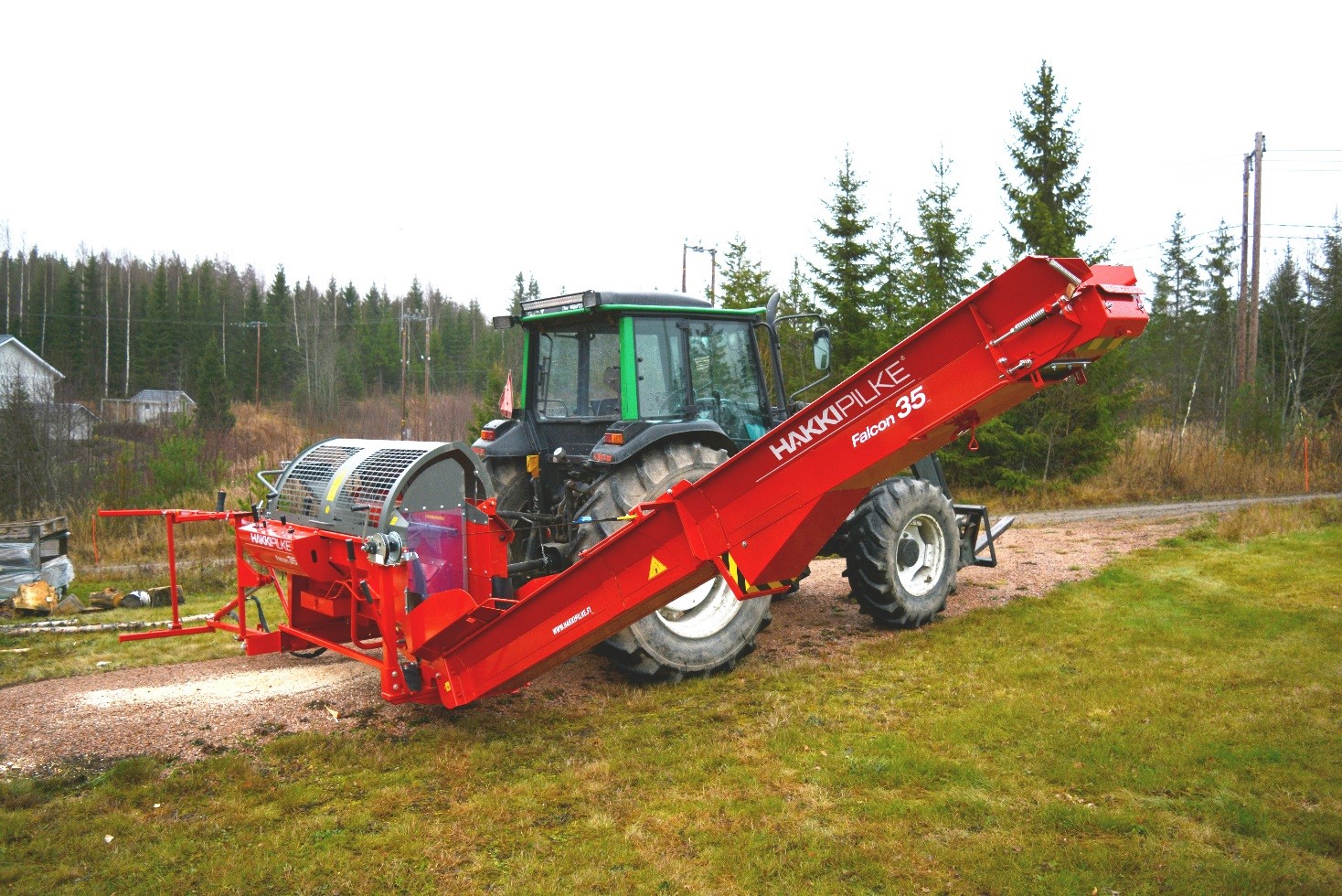 WHY SHOULD YOU BUY A PTO POWERED FIREWOOD PROCESSOR?
Have you ever wondered what to do with an unused tractor? Buying a PTO powered firewood processor may not be for everyone. But if you already own a tractor, it could be the best solution for you.
In case you own a tractor that is unused or used only part-time, we recommend considering a portable firewood processor (PTO model) with a 3-point hitch connection instead of a petrol engine model.
For tractor owners the three main reasons to choose a PTO powered firewood processor are:
The PTO powered firewood processor is highly portable with three-point hitch.
Compared to the electric and engine models the PTO firewood processors are less expensive to purchase.
The compact PTO firewood processor is great for seasonal use, as it is easy to store and has the same level of performance in all weather conditions.
Highly portable with 3-point hitch
In case you have mobile operations, you will of course be looking for a firewood processor designed for easy transportation. The right machine is easy to lift and set up at the new location, whether you have a loader, a tractor, a bobcat or a small truck mounted crane.
Most of the PTO firewood processors are highly portable with the tree-point hitch. It is also a widely used type of hitch in tractors. When choosing a PTO processor, it is not only easy to power it with your tractor, but also to move it around the yard or for example in terms of contracting.
With the log lift or log table in the tractor's lifting device the firewood operation can be quickly moved. The log lifters are easily transported with the machine. You can also grab the log deck to the tractor front hitch when going for a mobile operations. It is also possible to build a mobile trailer combination with the machine and the log table to be transported with the tractor.
Less expensive option
Compared to the electric and engine models the PTO firewood processors are less expensive to purchase. Of course, the purchase price is only one part of the life cycle cost of the product. The resale value and operating efficiency are typically lower with the PTO firewood processor. The total life cycle cost can still be lower compared to the other options. There are few things you should consider when counting the life cycle cost for the PTO firewood processor.
First, the tractor uses about 2-3 liters of diesel per hour when running a firewood processor. But you should also consider if the tractor can be used for other purposes when you are not using the firewood processor. If you use the tractor only for the firewood processor operation, extra service and maintenance costs should also be examined.
Still, in case you have a tractor laying around, the PTO model processor is likely to be the best investment for you. You can utilize your old tractor with only 20-35hp requirement. Before purchase, remember to make sure that your tractor has sufficient horsepower that the PTO processor requires.
Small used tractors are often found cheaper than big diesel engine units. If needed, there are also other cost-efficient power source options available. Hakki Pilke offers for example compact, yet efficient PowerPack for PTO- or combi driven Hakki Pilke firewood processors. The PowerPack is a perfect solution when you need your tractor for the other tasks, such as moving the logs, instead of running the firewood processor. Compared to a tractor, the PowerPack is almost maintenance-free.
Great for seasonal use in all conditions
Compact PTO firewood processors are great for seasonal use as they only take a small space from shed and are therefor easy to store. Modern quality processors are also safe to operate and have the same level of performance in all weather conditions. There is no engine starting problems due to the cold weather as your tractor with preheater starts easily in -4 ℉ (-20 °C) and it warms up the firewood processor in a matter of minutes.
If you have other use for your tractor while not using it for the firewood processor, there will be no need for a yearly maintenance even when you process firewood only seasonally.